Keating, Margulies and More Guest
at 'Eating Their Words' November 3

http://www.broadwayworld.com/...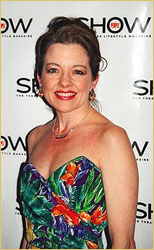 Eating Their Words, redefining "dinner theater" by wedding a seasoned chef with prominent playwrights for an integrated and sophisticated evening of new cuisine and new plays, adds chef Sam Mason's Tailor to its event line-up, Monday November 3rd. At "The Tailor Event", Chef Mason will collaborate with tour de force playwrights Beau Willimon, Sarah Treem, and
Jonathan Marc Sherman
under the theme "Defying Perception." The evening's cast features Tony Award nominee
Isabel Keating
(The Boy from Oz), Broadway and film veteran,
David Margulies
(Angels in America, Ghostbusters),
Michael Chernus
(Winter Passing, Essential Self-Defense), and
Julie Fitzpatrick
(Close Ties, RiddleLikeLove). A first for the company, acclaimed mixologist, Tailor's Eben Freeman, will join the evening's creative whirlwind. Eating Their Words founder, Artistic Director
Marlo Hunter
, will direct the World Premieres. It is the only theatrical or culinary event of its kind.
Sam Mason, chef and partner of Tailor, is known for creatively combining sweet and savory flavors in his unique and playful dishes. He received much acclaim as the pastry chef at wd-50 before venturing to open his own establishment. Mixologist Eben Freeman has created one of the most celebrated cocktail programs in the city at Tailor, inspired by his "chef-driven" style of bartending.
Willimon's play, Farragut North, will receive its World Premiere this November at the Atlantic Theater starring
Chris Noth
, and is currently being adapted as a feature film for
Warner Brothers
, with
George Clooney
attached to direct. Sarah Treem's credits include A Feminine Ending at
Playwrights Horizons
. She is a writer and producer on HBO's "In Treatment".
Jonathan Marc Sherman
, best known for his hit comedy, Women and Wallace, was most recently represented by Things We Want. He founded the Malaparte Theatre Company with
Ethan Hawke
, which produced new work for ten years.
A culinary treat, a cultural fix, and a supper-club social, Eating Their Words offers attendees the World Premiere of three new plays written explicitly for their evening, coupled with the inherent theatricality of a one-of-a-kind meal inspired by the writers' work. The event's forum is the chef's restaurant. The intimate evening delivers these plays, set at a dinner table, an arm's length away from audience members. Attendees surround the performance table, voyeuristically overhearing a "conversation" at a neighboring table. Following each play, set over a meal, the audience indulges in the course they just watched the actors experience. Each course is created by the chef, and accompanying cocktail pairings by the mixologist, after reading and interpreting the playwrights' scripts.
The innovative company launched in March of 2008 at The Tasting Room, followed with a June event at the Waldorf=Astoria's iconic Peacock Alley, and a recent September event at the Michelin-starred Country. The unique company has commissioned new work from playwrights such as
Neil LaBute
,
Theresa Rebeck
,
David Grimm
,
Brooke Berman
, and
Annie Baker
.
A one-woman start-up, Eating Their Words was founded by Artistic Director and Manhattan-based director and choreographer,
Marlo Hunter
(currently choreographing the first New York production of
Jason
Robert Brown
's Songs For a New World since its inception), to explore the relationship between playwright and chef. The Princeton graduate launched the company to see whether she could build a business solely upon the things she loves most. The company will feature new plays and original menus at restaurants of note in and around Manhattan, monthly. The company also creates private events for companies and individuals who are looking for a unique, high-end event concept.
Tickets for the November 3rd "Tailor Event" ($250) are limited and can be purchased through the Eating Their Words website at www.eatingtheirwords.com. VIP tickets ($285) ensure that attendees will be seated with a playwright or actor throughout the evening. Tailor is located at 525 Broome Street, in Manhattan.