Keating, Welch, Lysy, Cash to Perform New Rebeck Play, for Eating Their Words, 10/19

http://www.broadwayworld.com/...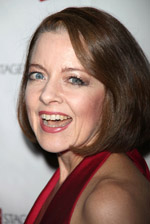 Eating Their Words, producer of unprecedented theatrical and culinary events, will feature Tony nominee
Isabel Keating
(The Boy from Oz),
Christopher Evan Welch
(Festen, Vicky Cristina Barcelona),
Austin Lysy
(An American Plan), and
Aya Cash
(From Up Here, the upcoming Killers and Other Family) in new short plays by Pulitzer Prize finalist
Theresa Rebeck
(Mauritius, The Understudy),
Jonathan Marc Sherman
(Things We Want), and
Sam Forman
(The Rise and Fall of
Annie Hall
) at 'The Tocqueville Event', Monday October 19th at 7PM.
A culinary treat, a cultural fix, and a supper-club social, Eating Their Words creates a one-of-a-kind cultural experience by wedding New York's most innovative chefs with the voices of great
American Playwrights
. Conceived in 2008 as a celebration of
Marlo Hunter
's (Founder & Artistic Director) two passions, developing new plays and exploring the inherent theatricality or "story of" a meal, this one-woman labor of love gives its audiences a tailor-made experience wherein food and theater meld into one tantalizing treat for the senses. For each event the company presents three new 20 minute plays, set at a dinner table, an arm's length away from audience members. Attendees surround the performance table, voyeuristically overhearing a "conversation" at a neighboring table. Following each play, the audience indulges in the course they just watched the actors experience. Each course is created by the chef after reading and interpreting the playwrights' scripts. The company produces these unique events at restaurants of note around Manhattan.
For the upcoming Tocqueville Event, Tocqueville's Executive Chef and owner, Marco Moreira, joins forces with Rebeck, Sherman and Forman. Under the theme "A Taste of Eating Their Words", Chef Moreira will create an original menu inspired by
Sam Forman
's World Premiere play, as well as past Eating Their Words' favorites, Birth Day by
Theresa Rebeck
, and Appetizer by
Jonathan Marc Sherman
. Founder and Artistic Director,
Marlo Hunter
, directs.
New York-based director,
Marlo Hunter
, launched Eating Their Words in March of 2008 at The Tasting Room with Chef Colin Alevras, with subsequent events at the iconic Peacock Alley in the Waldorf =Astoria with Chef Cedric Tovar, Country with Chef Willis Loughhead, Tailor with Chef Sam Mason and Mixologist Eben Freeman, and a joint event with the Striking Viking Story Pirates and Chef David Bouley at Bouley restaurant. The company has commissioned and produced World Premiere plays by playwrights
Neil LaBute
(reasons to be pretty),
Theresa Rebeck
(Mauritius),
Brooke Berman
(A Perfect Couple),
Beau Willimon
(Farragut North), and
Annie Baker
(Body Awareness) among many others. This phenomenal work was performed by Tony Award winning actors, and renowned Broadway, film and television artists.
Eating Their Words and Tocqueville are a perfect match. In the true spirit of Tocqueville Restaurant, this exciting evening will continue Tocqueville's long tradition of supporting culture, the arts, and feeding its loyal customers tasteful modern cuisine.
Tocqueville, now entering its tenth year as an industry standard-setter for its warm and efficient service, creative and vibrant kitchen, and connection to the Union Square Greenmarket, is a labor of love for husband and wife team Chef Marco Moreira and Jo-Ann Makovitzky. The Brazilian-born chef first earned acclaim as one of the most talented sushi chefs in New York City before working in some of its finest kitchens and ultimately founding Marco Polo Caterers and Tocqueville with wife and business partner, Jo-Ann Makovitzky. At Tocqueville, Chef Moreira's highly-lauded French-American cuisine is a product of his philosophy that enhancing ingredients' natural flavors will inspire innovative dishes.
Tickets for the October 19th event are now available for secure purchase through the Eating Their Words website at
www.eatingtheirwords.com
, and are priced as follows: $149.00 for the three courses and performance, $195.00 with a wine pairing, and the $250 VIP package which includes premium seating with a playwright or actor, a tour of the kitchen and a signed program. All tickets include tax and gratuity.