Why do you hate the term "dinner theatre"? And what are the common misconceptions of New Yorkers?

The term "Dinner Theater" immediately calls to mind a space in the middle of Ohio (sorry, Ohio), where people dine on mediocre to bad food while watching a revival of an over-produced musical. Eating Their Words could not be farther from this in any way. I don't know that New Yorkers have misconceptions about "Dinner Theater" – but they might have misconceptions about Eating Their Words if they hear that "dinner" and "theater" are paired and coexisting in some form.

When planning an event, what comes first? The Chef or Playwright? And would you be willing to flip-flop the order to create a different challenge?

They often happen simultaneously. Without the chef and his or her venue, I don't have an event. So that's usually my first order of business; more logistically than artistically driven. Nevertheless, I am constantly speaking with playwrights I'm anxious to collaborate with about future events, so it tends to coalesce simultaneously.
I will say that since there are three playwrights for any given event, I do have to consider the balance of the evening, and how their voices will complement each other. Additionally, some venues lend themselves to a generally lighter evening, and some are more staid. I bear that in mind when nailing down the playwrights and their particular tone for a given event.
So, you got me. I'll say the Chef comes first (ish).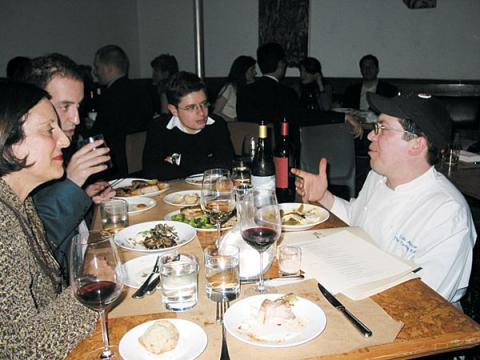 You refer to Chefs as "artists". I find most chefs to consider cooking a craft as opposed to an art. Do you think any accomplished chef is capable of combining food and theatre in some way, or does it truly require an artistic approach?

Very true. For the most part, they do consider their work a "craft". But in the company's short life, I have become convinced that not only are chefs capable of combining food and theater in a uniquely artistic manner, they enjoy the opportunity to think outside the box and flex their artistic muscles.
A fine example of the chef as artist is Chef Colin Alevras, of the former Tasting Room. Colin took the collaboration with the playwrights like he'd been working that way his whole life. He created dishes for each piece that were not only a careful reflection of what those characters might order, but an exploration of how each character would be represented as a dish. It was remarkable, and hilarious.
Also, and I speak about this often, I created this concept because to me, a meal in a restaurant is as close to a theatrical experience and process as possible. The chef/owner is putting on show, which is greater than his/her dishes (the actors). The chef must create the ambiance (setting), the timing of the meal and the nuances of the scenes, and the better the show, the more seamless it is. Like the wings of a stage or the booth in which a stage manager is running the technical elements, the kitchen and front of house staff are working hard and less than gracefully to ensure what happens on their stage looks and feels like magic. Yes, that takes skill. But for the finest chefs, it is an art.

Do you view the food as a prop? Or as a character itself that plays a pivotal role in the audience's eyes?

It is generally the latter. Well, if the collaboration is working as I hope it will, it is the latter. Less successful collaborations have resulted in the food serving more as a prop. The success of this lies in both the chef and the playwrights' hands. Two examples come to mind. For the Country event, playwright Brooke Berman wrote a gorgeous piece about a daughter dining with her dead mother. The mother was never a phenomenal communicator, but taught her daughter what she could through the extravagant meals they shared together while she was alive. By using food as a metaphor and a means for emoting, the dishes on the table had greater meaning, and absolutely served as a third character.
In another example, playwright Annie Baker wrote a phenomenal play for the Waldorf event, in which the way the characters chewed their food dictated the tone of a given moment and added rich emotional texture to the piece as a whole. Here, the food as a prop fortified the characters and helped the audience to identify with their painful interaction, specifically over a meal.

What criteria do you follow when searching for chefs and playwrights? Do you have a list of industry people who you are dying to work with?

Oh yes. Very much so! I knew far less about chefs than I did about playwrights. As a director and choreographer, theater is my industry and comfort zone. I knew I liked eating. And I knew there were chefs I admired. One of the biggest challenges with which I was confronted was finding a chef who not only had an appropriate space, and was not only creative, but actually understood what the hell I was talking about. It is very hard for many chefs to wrap their brains around my concept. This surprised me, frankly, as I've always thought of chefs as inherently creative people.
As for the playwrights, I gravitated towards the many I've worked with previously, whose work stimulates me, and of course, those I had always wanted to work with.
If I could work with David Bouley, I'd die happy. He's my favorite chef. I'm also interested in working with Brad Farmerie (of Public and Double Crown). I think Mario Batali would get a kick out of the process. And, of course, I have yet to work with a female chef. I'd like to remedy that as soon as possible.
In terms of playwrights, I hope bring David Henry Hwang, David Lindsay-Abaire, Douglas Carter Beane and Craig Lucas into the fold (basically, whoever has three names). Tracy Letts would be amazing, as well. So would Paul Rudnick.

Are you open to a food fight scene?

Funny you should mention this. I think we're almost there. In both of my last two events a play ended with a character throwing food in another character's face. However, we're a classy joint. People are dressed nicely. So an all-out food fight probably won't happen.

And lastly, what do you have planned for 2009?!?!?

We're focusing on private and corporate events for a short while. But we are very excited about our second collaboration this May or June (we'll release the date shortly) with the acclaimed Striking Viking Story Pirates. For this event, children write the stories, adults turn them into plays and perform them, and the chef creates a menu inspired by the plays. Last year we worked with Chef Willis Lougghead at Country and it was one of my favorite events of the year. The adults were just as entertained as the kids. And the food was fantastic.
When we return with a public event, we are shooting for Blue Hill at Stone Barns with Chef Dan Barber. They are so lovely over there, and are eager to collaborate. So stay tuned!
Finally, Eating Their Words is looking to expand internationally. The concept was inspired by ancient Roman "convivia" and I'm working on bringing it back to its conceptual birthplace.